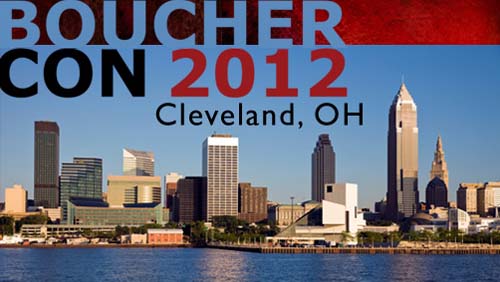 The weekend

Bouchercon 2012

was held right in my hometown of Cleveland at the

Renaissance Hotel

. For those who don't know, "

Bouchercon

is the world mystery convention and has been taking place annually since 1970....It is named for famed mystery critic Anthony Boucher." Because of my real job, or at least the one that provides me with a paycheck, I was able to attend only one day of Bouchercon 2012. It was not only my first Bouchercon, but my first conference or convention of any kind dealing with books. And thanks to my friend

Jen

from Jen's Book Thoughts, I navigated that day without a hiccup, met a lot of great people in the mystery community, and had a great time.
Sean Chercover
The event consists mostly of panel discussions. Each panel has a moderator and several people with an expertise on the topic for discussion. After a brief discussion, the panel takes questions from the audience. I was able to attend two panels. The first was about characters with unusual jobs, including a tattoo artist written by

Karen Olson

, race car driver by

Tammy Kaehler

, a nun by

Alice Loweecey

, and a juvenile delinquent drug dealer and blackmailer by

Aric Davis

. The second panel was about the unusual research authors do for their books. It included a new likely favorite,

Sean Chercover

, whom I had a chance to speak with briefly later in the evening, and was moderated by publicist

Dana Kaye

.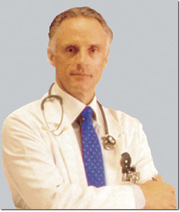 Robin Cook
After the panel discussions, I saw an interview of medical doctor and New York Times bestselling author

Robin Cook

, author of dozens of medical thrillers including Coma, Outbreak, and Chromosome 6. The interview was especially interesting to me because part of the discussion turned to the current healthcare debate, combining books and politics!
There were also several mystery booksellers there, and I was able to get signed first editions of

Dennis Lehane

's

Live by Night

and

Will Lavender

's

Dominance

.
The evening of the first night included an opening ceremony emceed by

John Connolly

at the

Rock and Roll Hall of Fame

, where the

Macavity Awards

were presented by

Janet Rudolph

from

Mystery Readers International

.
Michael Connelly
Perhaps more interesting than the panel discussions, and I'm sure all of the panels I missed, were the people I met at Bouchercon 2012. There were bloggers, reviewers, publishers, agents, editors, and of course authors of all levels of success and experience. I can't speak for everyone, or all the authors there, but I was encouraged to buy several books I never heard of just by meeting and talking briefly with the people I met, such as

Ray Daniels

,

Bill Loehfelm

, and

Kathleen Ryan

, and Aric Davis

.
Michael Koryta & Jen Forbus
While that was fun, the biggest thrill was meeting a few authors and people I have read for many years:

Michael Koryta

,

Michael Connelly

,

Alafair Burke

, and

Marcia Clark

. I was even able to have a a spirited discussion with Koryta and Connelly about the future of the book industry; we were unable to reach a conclusion. I was also finally able to put a face with the wonderful, kind, and helpful

Miriam Parker

with

Mulholland Books

!
I can say without hesitation that everyone I met at Bouchercon was kind, considerate, polite, and very approachable. Thousands of books were signed, pictures taken, and questions asked; I did not see or hear of a negative experience.
The convention, even just one day of it, was a wonderful experience with wonderful people.

Bouchercon 2013

is scheduled for Albany, New York; I hope to be there.